Japanese Antiques Shop Nobiru

Japanese Antiques Shop Nobiru

Here at Nobiru we bring you one of the finest arrays
of Japanese antiques available online.
We specialise in old sophisticated furniture such as cupboards,
chests of drawers, antique lights, lampshades, Screens,Scrolls & Signs,
Tea Items,Lacquerware, doors, fittings as well as other period items.
All items can be purchased directly from our website.
Concept
The concept of wabi-sabi is an inherent part of Japanese culture
and is a way of finding beauty within nature's imperfections.
Wabi-sabi encompasses objects which resonate through the soul and spirit
of the original artisans who created them.
The skill and attention to detail paid by these craftsmen,
coupled with the patina gained through a lifetime of usage,
helps to create this atmosphere of wabi-sabi.
It is a beauty which becomes enhanced through a quiet ageing process.
In order to preserve this beauty and out of respect for the original craftsmen involved in its production,
we restore our antiques only when deemed absolutely necessary
and always with the intention of retaining the original atmosphere imbued by the maker.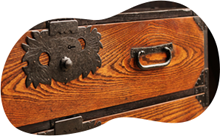 Beauty of Antiques
Antiques must contain properties that make you want to examine it again and again.
It is a beauty only revealed over gradual contemplation.
In the past Japanese/Chinese craftsmen were so skilled and attentive to the smallest
of details in the making of each product that it was not uncommon for a single item to take years to create.
The deeper your understanding becomes of Japanese antiques - for example the materials involved
and how they were used - the more deeply you will appreciate the skill and craftsmanship
involved in their creation.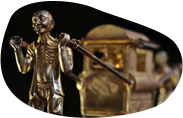 Japanese Fittings
Sliding partitions not only help to conserve space but also allow adjacent rooms to become larger when needed.
The role of empty space in a Japanese room is just as important as the tangible furniture within it.
The Japanese home creates a feeling that helps to connect you with the seasons and rhythms of nature.



Shipping for those who live in the country other than Japan
We offer international shipping service utilizing see and air freight. (exclude some destinations)
We provide estimate each time based on the destination, product size and quantity.
Please feel free to
CONTACT US
.

Shipping for those who live in Japan
We will process shipping after confirming the condition of the product you have ordered.
Please be understood if the item has already been reserved and not available at the time of your online order.
We ship with Yamato Transport. (There may be cases for using Seino Transport.)
Antiques are all one-of-a-kind items and must be recognized as the only item in a life time.
We offer a year term storage service.
We will store the products purchased from our company indefinitely in safe condition for free charge.


About Return and Exchange
Please verify the product details as soon as you received the delivery of the product.
Please contact us once first.
After reviewing the condition and details, if it turns out that responsibility is on us,
we will carry out correspondence accordingly.
Please note that we will not accept any products returned to us without any advance notice
and we sell OLD antique items.
We do not accept the return of goods by the circumstances of the customer for any shipped items of the order with international shipping destination.
We accept cancellation of orders if the shipment has not been dispatched.
Please contact us first and request cancellation of the order.

Payment method
・Paypal Payment
・Bank transfer
Please be advised that all costs associated to bank transfer payments must be provided by the customer.
・Credit card payment
When using a credit card issued outside of Japan,
we recommend you to contact the card issuing company to notify the shopping with our company in advance. 
For security reasons, if the card is used in the overseas site,
there may be cases that the approval will not be processed at all by the issuing company.
This is a precaution just to ensure our customers to enjoy smooth shopping experience.
The types of credit cards are, we accept VISA/Master/JCB/AMERICAN EXPRESS





FAQ Nobiru Frequently Asked Questions
*Are all the items antiques? Do you sell any new reproductions?
Almost all our products are antiques because this is what we love.
While we have many beautifully made items from other Asian countries our specialty is Japanese antiques.
Our collection of antiques spans from the early 1600's and the beginning of the Edo Era,
through to the1980's and the end of the Showa Era.
With special attention to detail our craftsmen repair or restore our antiques when needed so they will add charm and beauty to any home setting - modern or traditional.
In much of our restoration work we often leave some of the original traces of use if we feel this adds to the atmosphere of the item and also to show our respect and sympathy to craftsmanship involved in its creation it.
In our opinion it is this lifetime of use that truly serves to enhance the beauty of all antique items.
*Are all the Japanese style antiques you offer originally Made in Japan? Do you offer proof of authenticity?
While our catalog consists mostly of Japanese antiques,
we are proud to also offer some Chinese and Korean antiques which are too beautiful to do without.
Please refer to each item description for materials used and country of origin.
Unfortunately, as our catalog is in Japanese, you may have to first write us for more information.
CONTACT US
*Are all of the items in the online catalog currently available?
We try to keep our online catalog as current as possible.
There may be rare occasions where we may have sold an item in our store before we have been able to update our website.
*What is the condition of the items in the online catalog?
Please note that we sell ANTIQUE/OLD items.
We take great efforts to take good photographs of the antiques on sale so that you can judge the condition.
If you need more information about any item, kindly call us at +81-048-482-2060 or email us at
CONTACT US
and we shall reply as soon as possible.
As most of our staff speak only Japanese we will try to answer your questions in English to the best of our ability.
Please forgive our poor English in advance.
*What does Nobiru mean?
Nobiru is the Japanese word for 'ginger'. It also means prolonging or extending.
We believe all the antiques we offer should have a prolonged or extended life,
so they can be useful once more or be displayed as traditional art, proud of its Japanese heritage.
*Will I have to pay sales tax?
All Japanese sales taxes are included in the price.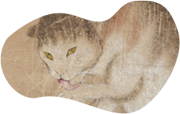 *How do I get there?
Niza City is located on the outskirts of North West Tokyo.
It takes about half an hour to an hour by car or train from downtown Tokyo.
The nearest station is Niza Station (Musashino-line) or Kiyose Station (Seibu-Ikebukuro-Line).
Then take Taxi (roughly about 1,000 JPY ) to the address below.
3-11-4 Atago Niza Saitama prefecture. (Next to Atago dental)
→Access